[jump to photos] This was our second shoot with Kristina, AKA K_VV. Kristina is an amazing model, attractive patient, witty and keen to try new ideas and always prepared to "go that extra mile" in order to get the perfect shot. The main aim of this shoot was to replicate a series of 1950's magazine ads for Playtex girdles.The image was taken using a long exposure, in a darkened room, and then triggering a flash as the model moved across the stage.

The concept behind the original ads was to demonstrate that girls could move freely in their girdles, whilst still enjoying a nice flat tum. Unfortunately, the original Playtex girdles were made of natural rubber latex. Whilst they had great figure control, they also tended to perish rather quickly. So very few of these girdles have survived into the 21st Century. However, after a bit of digging, we found a similar looking Silhouette Little X on eBay, described as "new old stock", in Kristina's tiny size – so she wore that instead.
The Little X is made of heavy nylon Lycra and offers at least as much figure control as the original Playtex. And because it was brand new, it was brilliant white, which showed up under the strobe light very clearly. So we were able to achieve the look we were after.
However, the project was not without it's difficulties, especially for Kristina.  In a nutshell, she had to place herself on our diminutive "stage", moving with millimetric accuracy and perfect timing, maintaining equally perfect posture, in the pitch dark, tummy ruthlessly squeezed in by the unyielding Little X girdle, whilst making it all look natural and easy!
The original images were taken in a studio that was probably over 5 metres wide. We had to make do with a black a paper roll that was just 2.72 metres wide. Thus giving poor Kristina yet another challenge to add to the long, long list.
But her patience and skill enabled her to rise to the challenge beautifully. She also went on to produce some other fabulous imagery too. Thanks Kristina!
Please click here to see the photo we were attempting to emulate…

---
Rationale
These are the images we were trying to reproduce:-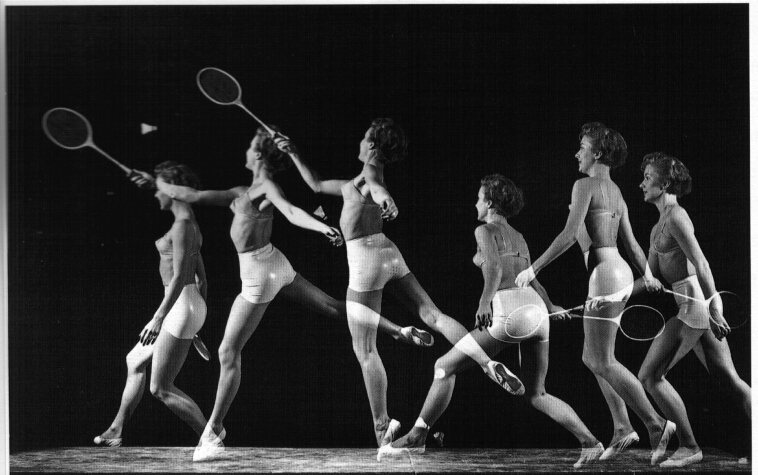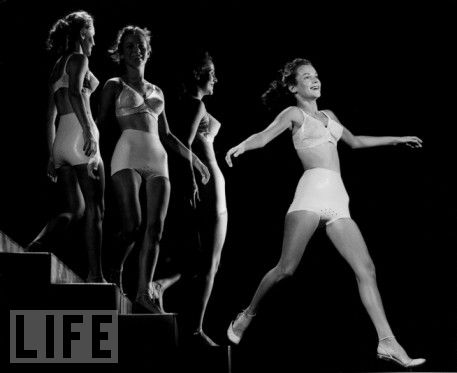 ---
Some of Kristina's other web presences