[Jump to Photos] My first model shoot of the year certainly started with a bang. I had the immense pleasure of working with the delightful Domii. Hailing all the way form her native Poland, Domii now lives here in Southampton, UK, where she recently graduated in Fine Arts.

Shoulders back, tummy in and smile!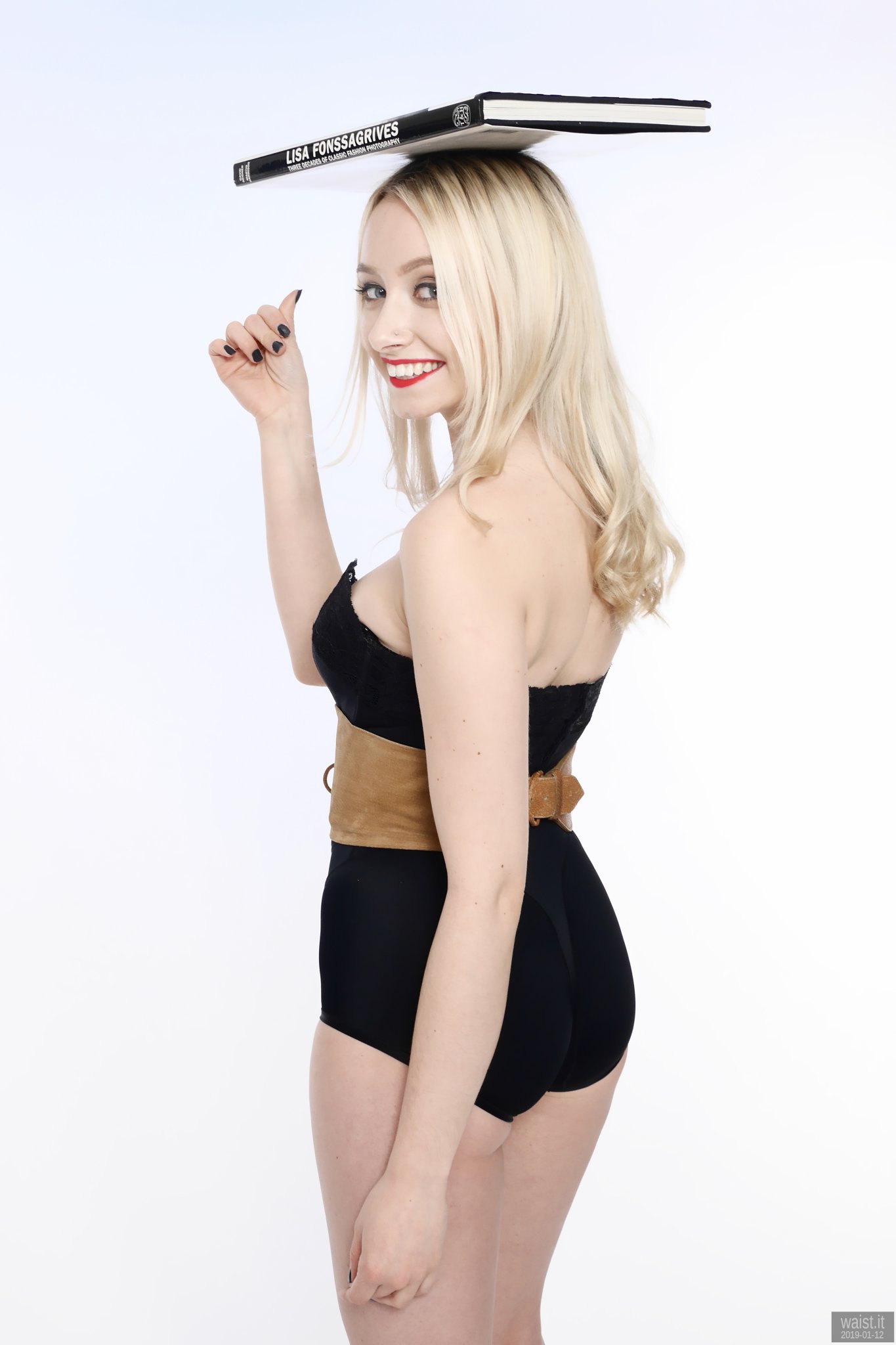 Since she was new to our vintage/pinup genre, Domii agreed to try a one hour retro-fitness session. This was to develop her posture and deportment, and help give her that classic vintage hourglass shape that we like so much here at waist.it. Basically this consisted of an hour of squeezing in Domii's tummy and pulling back her shoulders. Meantime, we made her walk carefully around the studio, standing as tall as she could with a large book balanced precariously on her head.
I think it was a bit of a shock for her because this his was the first time she had ever done anything of this sort. So it can't have been easy for her. But did it all with a smile and we captured some lovely pictures of her in the process.
We then moved on to some fab retro bikini shots. Seems her deportment class had worked really well, as you can see from her elegant posture and neatly tucked-in tum. This was followed by some more retro swimwear and a lovely long-sleeved leotard. This suited her particularly well and showed off her elegant posture beautifully.
Then we went on to try some vintage corsetry and foundationwear on her. We tried to do this in a style that was similar to vintage foundationwear advertisements. Domii has a particular charm in front of the camera, and these shots worked really well. I'd very much like to pursue this theme further in our next shoot together. We concluded the shoot with a tightly-laced underbust corset. Apparently this was the first time Dommi had ever worn anything like this. But she's a brave girl and she carried it off beautifully.
Overall impressions
Looking back over this shoot, I'm particularly delighted she tried the retro fitness session at the beginning. It made a big difference to how she looked later in the shoot. It was really good fun too. Most importantly, Domii demonstrated that old-fashioned deportment and posture techniques as practiced by elegant young ladies in days of old, work just as well on modern girls too.
Only problem was that our 5.5 hour shoot whizzed past in what seemed like about twenty minutes. So we did not have time for all the costumes we planned. But hopefully we can rectify some of those omissions during our next shoot.
Lovely smile, lovely figure, lovely model, lovely person. Very highly recommended.
Domi's pictures
---
Alternative versions
---
Domii's pictures taken by other photographers…