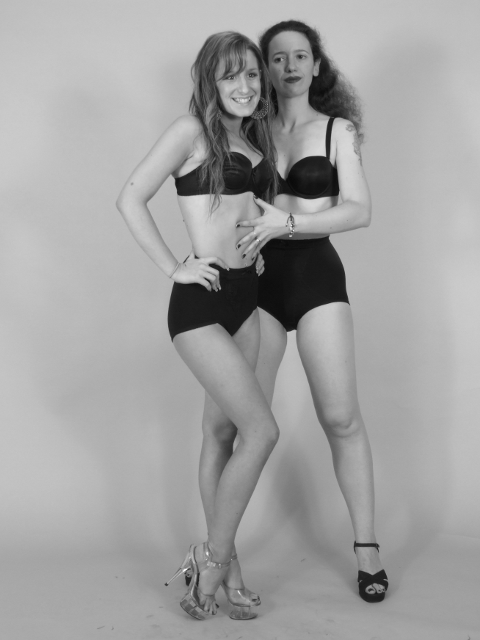 Chiara and Jade, model for a particularly productive "retro fitness in shapewear" shoot. The concept was to shape each other's figures using a mixture of exercise, working on each other's posture and deportment, and wearing some nice, firm retro-style shapewear. 
Putting Jade and Chiara together for a shoot always works well. Both have fabulous figures. Both look great in tight-fitting shapewear. And both have, or can easily attain that fabulous concave waist that we all admire so much here at waist.it.
As an experienced retro model, Chiara is used to being told, "Pull your stomach in" and to, "Make it look natural and easy". She tells us that she actually quite likes being made to keep her tummy in because the more often she does it, the easier it gets. Just like the late, great Bettie Page, Chiara has been consciously pulling in her stomach in order to enhance her figure, ever since her teens.
Chiara believes that in addition to making girls look taller and slimmer, regularly using one's tummy muscles to keep it flat is a very effective passive exercise too. Unsurprisingly, she reckons that a four-hour retro shoot for waist.it always gives a girl's tummy muscles a really good workout!
Jade is a trained dancer and gymnast who is well used to creating shape and form with her body. And all that training means she has really nice posture. Her tummy muscles are superb and with a little gentle prodding and squeezing, she can pull herself in to achieve a tiny 50cm/20″ waist! She enjoys helping other models improve their figures and has helped us train shape new models in several of our earlier shoots.
We start, however, with a few snaps of Jade solo, showing off her super slim figure in a delightfully form-fitting Cheongsam over some tight-fitting Chinese-made shapewear. The girls move on to model a variety of tight-stretchy Chinese pantie girdles and matching bras. Then they end the shoot, showing off their beautifully sculpted figures in some fabulous dance costumes.