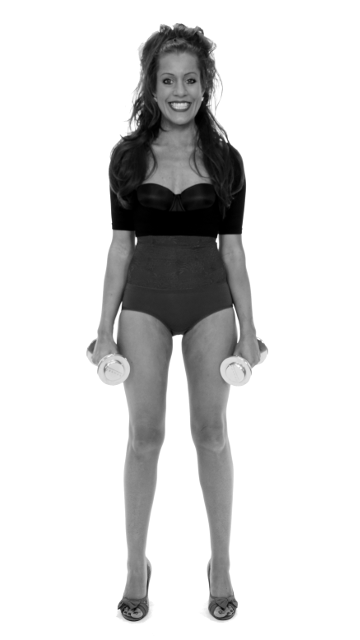 Natty Badger pinup fitness – a fabulous first shoot with the delightful Miss Badger. Her pre-shoot comms were excellent. She came beautifully prepared for the shoot with a case full of accessories and shoes. Natty also pays great attention to detail. E.g. her fingernails, toenails and lipstick all matched perfectly. She had even printed out and read the shoot-plan!
In addition to her legendary love of badgers, Natty has bright sparkly eyes and a winning smile that lights up the room. Six or seven hours in her company disappeared in what seems more like a few minutes. She is also an amazingly well-organised person and came with a large hold-all packed with great shooting accessories.
Fabulous figure, perfect posture
She has long slim legs and a delightfully trim figure, that she shows off to perfection with her text-book perfect posture. I was particularly taken with her tiny waist and her fabulously flat tummy that she always kept taut and neatly tucked-in. Thus she perfectly emulated the hourglass silhouette of a model of yesteryear.
Natty's figure control was so good that we asked her to pose for some instructional material. Here she demonstrates a series of before/after images to show other models how to pose the vintage way. Needless to say, it was a lot of fun and the images themselves were excellent. She also has excellent precision and can place herself with great accuracy. So we managed to get several really good stop-frame animations too.
Sadly, as is so often the case with first shoots, we ran out of time to cover everything we planned. But we still managed five sets. I lost count of the costume changes. Even better, she has promised to come back for another shoot, to shoot all the stuff we ran out of time to do this time.
---
Natty Badger pinup fitness pictures
---
Natty's pictures taken by other photographers…
---
The Privacy Badger logo belongs to The Electronic Frontier Foundation (EFF), an international non-profit digital rights group based in San Francisco, California. Privacy Badger is the mascot of its free, open source browser privacy software https://www.eff.org/privacybadger
The logo is used here for artistic and humorous purposes. It is not intended to indicate any endorsement of my work by the the EFF. It is licensed under Creative Commons Attribution 3.0 United States (CC BY 3.0 US) https://creativecommons.org/licenses/by/3.0/us/