[Jump to photo gallery] Sometimes new models ask about the waist.it studio. These questions include…
What it's like?
How big is it?
Are there any changing facilities?
So here is a brief overview, together with some "behind he scenes" photos. It should give you a general idea about the studio. The studio has been carefully designed to create a warm, pleasant, productive and safe working environment. It is very flexible and is especially geared-up for vintage pinup, fitness and corsetry shoots.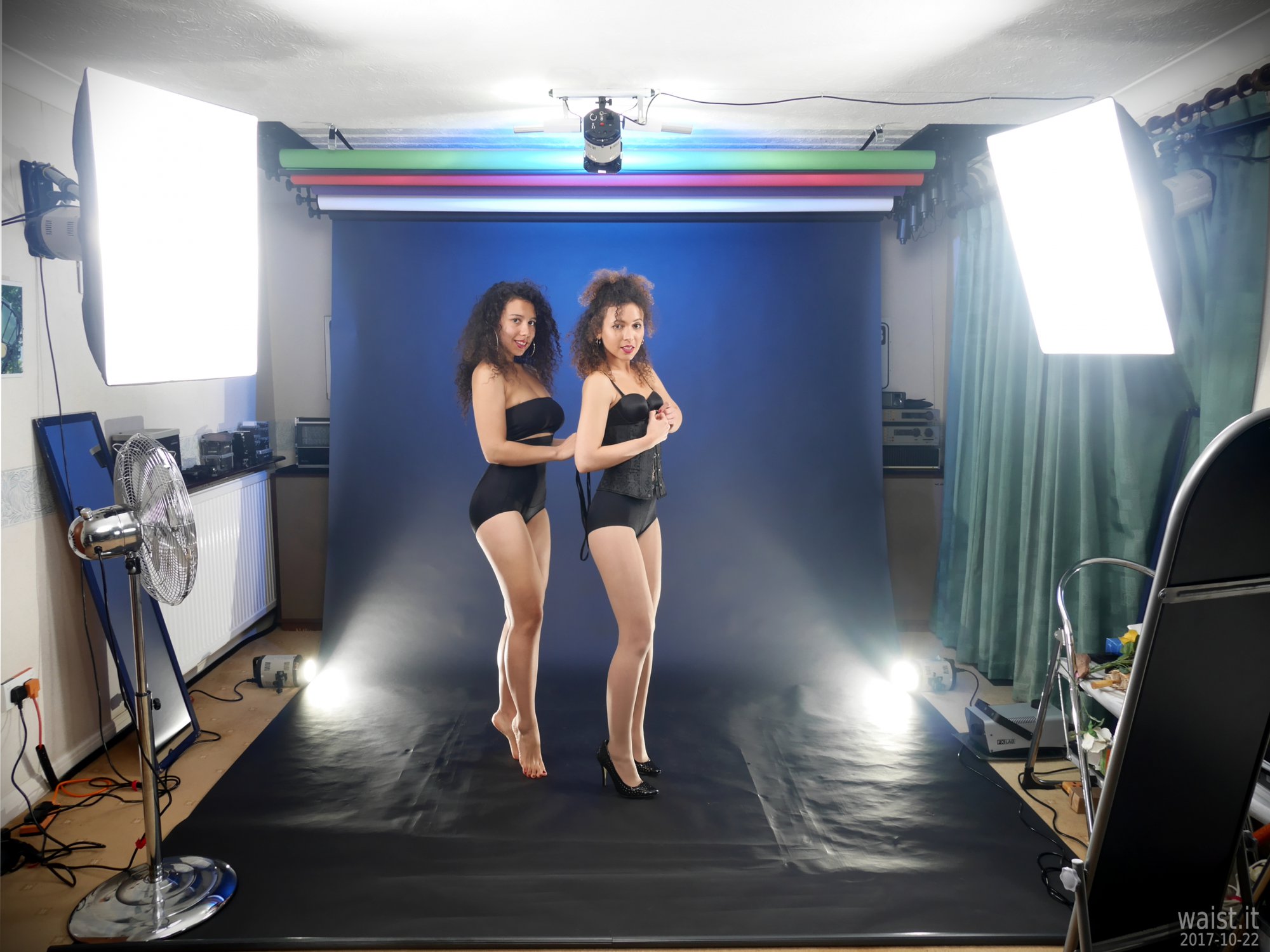 Basics
[Jump to photo gallery] The studio is 6.41 metres long x 3.81 metres wide x 2.35 metres high. It is kept warm and dry by two radiators with a total combined heat output of roughly 4.5 kW. To save floor-space, there are two wall-mounted extensible lighting booms, pre-wired with 5 metre IEC 60320-C13 leads and fitted with standard 16mm spigots for mounting either studio flash or continuous lighting. There are various other prewired 16mm mount points too, including two ceiling mounts and several more on the metal racking behind the photographer.
Backdrops
There is a selection of professional quality, seamless, coloured paper backdrops, 2.72 metres x 11 metres, suspended from the ceiling joists, on a 6-way, radio-controlled motorised backdrop system. These backgrounds can be mixed-and-matched with the costumes the model chooses to wear, in order to achieve a pleasing blend of colours.
Lighting
Studio flash
The model is usually lit by mains-energised studio flash. This normally consists of:-
two 400-joule flash heads, shone through either 50cm x 70cm or 140cm x 40cm soft-boxes for main lighting. These are normally mounted on extensible wall booms.
a second pair of 200-joule heads for background illumination, if needed
a further two ceiling-mounted 360-joule units to highlight the model's face and hair.
All six flash units are wirelessly-triggered from the camera and can be switched independently. There are further spare flash-heads available on site that can be deployed should one of the main units fail. Heavy lined curtains block out daylight, but can be opened if daylight is required.
Continuous lighting
We frequently use LED (light emitting diode) "continuous" lighting technology, arranged in a similar multi-point configuration to that detailed above. We also have the older type CFL (compact fluorescent lamp) type continuous lighting too. However we have almost completely phased-out CFL in favour of the tougher and safer LED type. In any event, we are continuously upgrading and improving the studio. Therefore the exact lighting configuration(s) may be subject to change and improvement.
Natural lighting
The studio has windows, totalling around five square metres all face north, and offer good, shadow-free natural lighting, when the curtains are opened. There is also a pleasant, small but secluded garden, roughly 90 square metres, adjacent to the studio, that can be used for some outdoor shots, weather permitting.
Models changing area
There is a heated, well lit private changing room/toilet, located roughly 6 metres down a carpeted passageway from the studio, that models have exclusive use-of during the shoot. In addition to toilet and wash basin, there is also a large make-up mirror.
Seeing yourself
There is a high resolution, 1080p, 101cm screen, mounted directly behind the studio camera, connected via HDMI to a GNU/Linux Media Server. Periodically, the photographer can download images from the camera(s) onto the server, and display them on-screen, so that the model can see them, whilst they are filming the next set. The photographer can also show a collection of vintage poses that the model can emulate if she wishes. This can be helpful for improving the model's poses. There are also plenty of long mirrors, so the model can see how the she looks, and make any adjustments necessary.
Other equipment
Fog machine.
40cm steel blade fan.
Variety of brollies, softboxes, gels and modifiers.
Collection of vintage radios, telephones and other vintage props.
More information
---
Behind-the scenes pictures of the waist.it studio